Important Information You Need to Know About COVID-19 Response and Recovery
Top Resource Links
The President's Coronavirus Guidelines for America: 30 days to slow the spread https://www.whitehouse.gov/wp-content/uploads/2020/03/03.16.20_coronavirus-guidance_8.5x11_315PM.pdf
For Small Business Owners, from the US Chamber: https://www.uschamber.com/co/small-business-coronavirus
From the IRS, Coronavirus Tax Relief information: https://www.irs.gov/coronavirus
From the Commonwealth: Virginia State Tax information: https://www.tax.virginia.gov/news/coronavirus-updates
From Congresswoman Luria's office, Information on the Stimulus Payment: https://luria.house.gov/COVID-19-Resources-Stimulus
Families First Coronavirus Response Act: Employee Paid Leave Rights. https://www.dol.gov/agencies/whd/pandemic/ffcra-employee-paid-leave
From the SBA, here's a resource on Coronavirus Relief Options: https://www.sba.gov/funding-programs/loans/coronavirus-relief-options
From the CDC, here are resources for Businesses and Employers: https://www.cdc.gov/coronavirus/2019-ncov/community/organizations/businesses-employers.html
From OSHA, here is guidance on preparing workplaces: https://www.osha.gov/Publications/OSHA3990.pdf
From the City of Newport News: https://www.nngov.com/2538/Coronavirus
From the City of Hampton: https://hampton.gov/3711/Coronavirus-Questions-and-Answers
From the City of Poquoson: https://www.ci.poquoson.va.us/
York County COVID-19 Resource Page: https://www.yesyorkcounty.com/311/COVID-19-Business-Resources
From the City of Williamsburg:  https://city-of-williamsburg-coronavirus-response-williamsburg.hub.arcgis.com/
Here is a link to a dashboard developed by the Hampton Roads Planning District Commission (HRPDC). It outlines Hampton Roads COVID-19 impacts.  It is updated on a daily basis: https://hrcovid19-hrpdc-gis.hub.arcgis.com/
This is an excellent recovery resource for small businesses from the Virginia SBDC: http://www.virginiasbdc.org/recoveryresourcecenter/. To view a PDF version of the checklist, click HERE.
Here is the link to the Covid-19 Reopening Guide for Small Businesses from the Chamber of Commerce.
From the U.S. Chamber: Reopening Business Digital Resources Center: https://www.uschamber.com/reopening-business; Here's a recording of a virtual event featuring a GSA administrator and a panel of small business owners, discussing the changes, initiatives and programs underway within GSA and the federal government to help small business federal contractors remain economically viable through the COVID-19 pandemic: https://vimeo.com/418212680/877ce7ed14
From the Virginia Department of Housing and Community Development: The impact of the novel coronavirus COVID-19 pandemic has reached almost all sectors of our economy. The federal government has issued several forms of relief but it can be hard to navigate all the information and programs currently out there. We have created a website to keep businesses stakeholders engaged and informed on relief available to them. For the latest information, please refer to the Secretary of Commerce and Trade COVID-19 Resource page. We appreciate you as a partner with the Commonwealth and look forward to working with you in the future.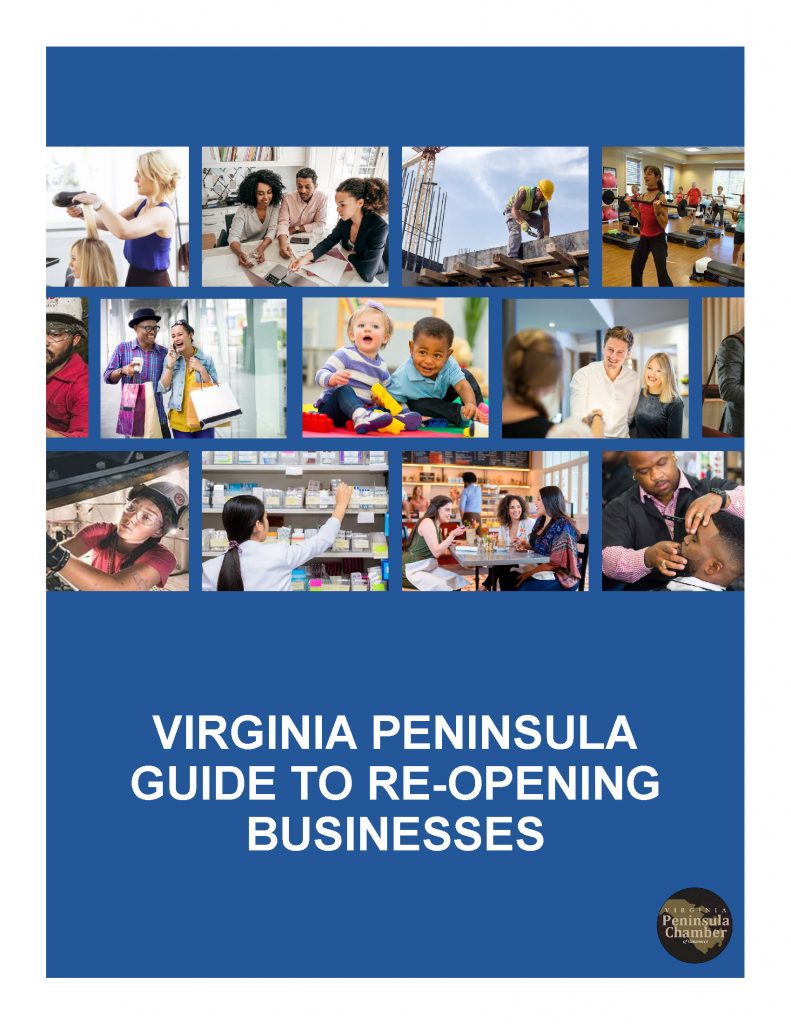 COVID-19 NEWSLETTER: A Virginia Peninsula Chamber of Commerce Publication
We Are Open
ATTENTION PENINSULA BUSINESS OWNERS!
Do you want to inform the public that you're available and ready to serve? Do you have an offer or other special information you want to share with customers? Let the community know that you're open by completing a short form via the following link: https://bit.ly/WeAreOpen-Form.
"We Are Open" is a self-reporting web-based Chamber initiative, where businesses like yours can complete a short form with address, contact information, hours of operation and any additional information you'd like to share (sales, pick-up/delivery options, etc.). Upon approval of your submission, your business will be added to the list of open businesses on the Peninsula, and posted to the Chamber website.
The COVID-19 Business Recovery Forum is a virtual meeting place for up-to-date COVID-19 analysis, connection and ongoing dialog with those who know the 757 best. Sign up today and sign on at 1 pm every Friday to engage in a live forum discussion. Here's the link: https://www.757recovery.com/.