The Virginia Peninsula Chamber now offers multiple advertising opportunities on their updated website and new mobile app (Navigate the Virginia Peninsula).  Download the Advertising Package via the green button below.
For questions or more information, please contact Nicole Shuford at nicole@vpcc.org.
HOME PAGE EVENT HIGHLIGHT
One (1) available spot for special event promotion.
CALENDAR PAGE BANNER AD
Advertise your business on the most clicked page of our website - the Event Calendar page!
Five (5) available rotating spots for banner ad placement.


*The above image is a sample of the banner ads.
POST-IT PAGE
BANNER AD: ten (10) available rotating spots for banner ad placement.
PROMOTIONAL FLYER: great to highlight an upcoming special event.
PROMOTIONAL POST: press releases, company announcements, and featured blog articles.
THE CONNECTOR NEWSLETTER
Our virtual newsletter will be circulated twice per month (1st and 3rd Wednesday) sharing information on topics like leadership, workforce development, pro-business advocacy, and our military community.
Choose from four (4) options:
1/4 page advertisement
1/2 page advertisement
full-page advertisement
promotional flyer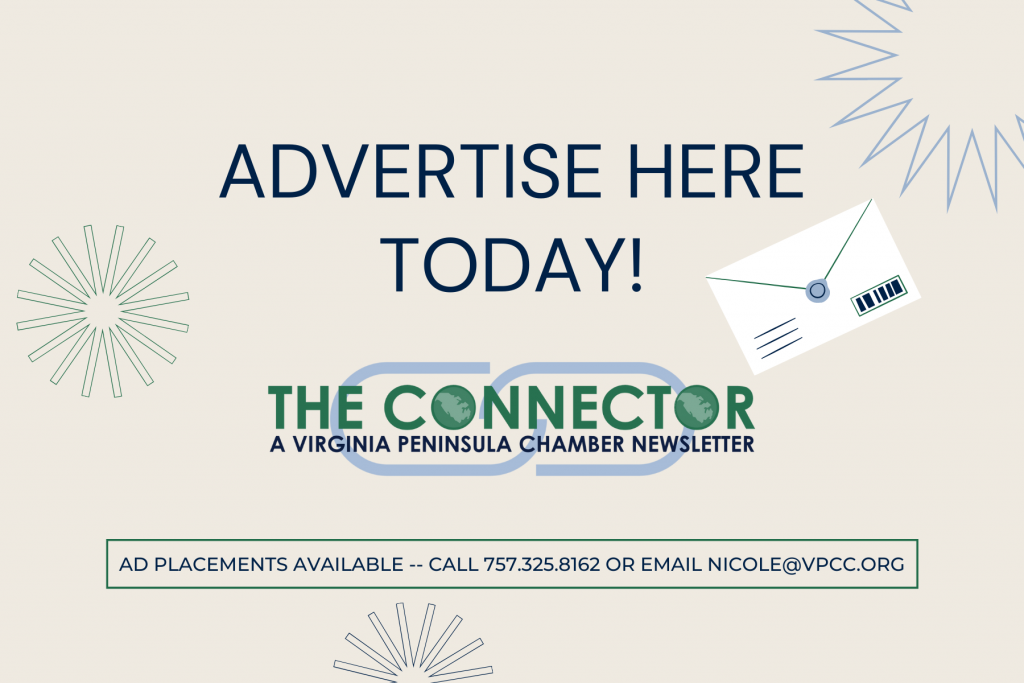 *The above image is a sample of the 1/2 page advertisement.
EXCLUSIVE EMAIL BLASTS
Dedicated email to spotlight one (1) business, special event, or promotion.
Mobile App Advertisements
NAVIGATE THE VIRGINIA PENINSULA
The Virginia Peninsula Chamber is excited to announce our "Navigate the Virginia Peninsula" mobile application.  This app interfaces with the Chamber website allowing users to browse our Member Directory, register for upcoming Events, and join the Chamber!  The map feature provides enhanced visibility for our local businesses and highlights resources for our community (Please note: Map Feature highlights only Members with the Enhanced Directory Listing).  Download today to access all information this app has to offer.
MAIN SCREEN LOGO HIGHLIGHT: six (6) available rotating spots for logo placement on the app home screen.
ENHANCED DIRECTORY LISTING: add your logo, description and a video to your directory listing within the app.
*All of our ads are sold and posted on a first come, first served basis; contact nicole@vpcc.org to start advertising with us!