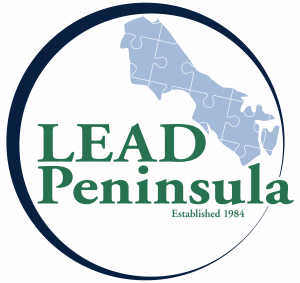 LEAD fills the need to Learn, Explore, Absorb, and Disseminate the portrait of the Virginia Peninsula!
LEAD Peninsula is a community and civic immersion program, which offers a comprehensive, behind the-scenes look at the components that make the Peninsula run efficiently and effectively and prosper economically. LEAD Peninsula also fosters opportunities for increased communication and cooperation among the private, public, and nonprofit sectors.
Since 1984, LEAD Peninsula has been introducing its class members to the major facets of the greater Peninsula community through an intensive ten-month program. The LEAD Peninsula members participate in educational sessions, tours, and candid conversations with community leaders. The goal is to provide intellectual and personal connectivity experiences with the various aspects of our community – business, education, public safety, health and human services, environment, local, state and federal government, workforce development, military and federal impact, transportation, infrastructure (water/sewer), etc.
LEAD Peninsula is not technically a leadership development program, but it is a tool in developing future leaders on the Peninsula and for your business. Participation in this influential program is a win-win-win, good for the Peninsula, good for the Chamber as an influential voice of the Peninsula business community and good for your organization.
LEAD Peninsula is already a respected and outstanding program. Please consider helping us to expand its influence and impact and to drive continual improvement by nominating and enrolling one of your recognized or emerging leaders.
For more information on the LEAD Peninsula program, or for questions on the application process, contact Jaime Parrish at jaime@vpcc.org.
Class of 2022 Program Dates
August 25, 2021
Orientation
September 1, 2021
Transportation Day
October 6, 2021
Environment Day
November 3, 2021
History, Hospitality, and Tourism Day
December 1, 2021
Education and Workforce Development Day
January 5, 2022
Poverty Simulation (POSTPONED)
February 2, 2022
Technology and Manufacturing Day
March 2, 2022
Public Safety Day
April 6, 2022
Poverty Simulation and Human Services Day
May 4, 2022
Federal Impact (Military) Day
June 1, 2022
Government Day
June 8, 2022
Completion Ceremony and Alumni Social
"LEAD Peninsula is an excellent program that brings leaders from different industries together. I have learned so much about different businesses specific to the Virginia Peninsula area that I knew very little about before this program. As a result, I know now how to better support them."
Crystal B. Bright – External Affairs Manager, Dominion Energy (Class of 2021)
"Participating in the LEAD Peninsula program was an amazing experience. I learned so much about the region that I didn't know, even after living here for 20 years!  Each session is built around a theme and highlights different aspects of the region's economy.  I also connected with some great industry leaders that I would not have met otherwise.  Don't think you have to be in your twenties or early thirties to benefit from this experience!  I highly recommend LEAD Peninsula to anyone who wants to learn more about the 757 region."
Barbara Monteith - Development Manager, Alzheimer's Association (Class of 2020)
"I highly recommend the LEAD Program to any emerging or recognized leader as it is an opportunity to collaborate in an effort to improve many facets of the Peninsula. This is a rare opportunity to experience the inner workings of local organizations, ask questions about their operations and offer feedback. In addition, during the course of the program, you'll explore the mosaic of the Peninsula, meet other leaders and become friends not only during the course of the program, but potentially for a lifetime."
Jenifer Spratley – Director of Marketing and Public Affairs, Newport News/Williamsburg International Airport (Class of 2019)
"This is an excellent program to meet leaders on the peninsula, learn the interaction of many programs, projects, companies and non-profits on the peninsula and Hampton Roads area. This program provides the best cross section of insights into the peninsula in particular. The VPCC has developed this into a learning and insight program that the leaders in this area should take advantage of to the maximum extent possible. It is a minimum impact on the company, and provides a very high return on the investment for the company and the employees."  "The LEAD Peninsula Program is an excellent program connecting the local community businesses with the vast capability in the region.  The program really opens your eyes to the capabilities, diverse businesses, and opportunities in the Hampton Roads area.  You get insight at a depth that most of the population will never see, and how businesses can have a greater impact on the sustainability of the region.  I highly recommend this program for company leaders, and emerging leaders within the companies, regardless of the size of the company, organization, or type of business."
Jeryl Hill – Engineering Group Manager, Science Systems and Applications, Inc. (Class of 2019)