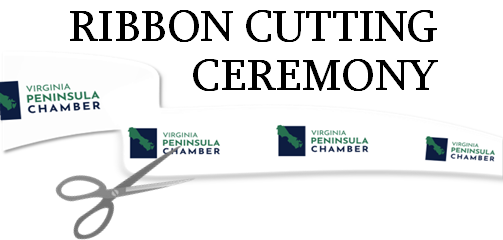 Frequently Asked Questions
A ribbon cutting is the ceremonial opening of a brand-new or newly-renovated/relocated business that has opened within the last six months. It can inaugurate an organization's first day of business or it can take place weeks after the business' soft opening.
Because the ribbon cutting marks a very significant moment in the business' history, this is also a great photo opportunity. The ceremony gives the business owner or manager a chance to say a few words to those gathered. Business owners have used this time to publicly thank their financial backers, their employees, their friends and family, and/or their business partners. They also take the opportunity to talk about what their business does.
You must be a new or current Chamber member in good standing (including dues paid) for the Virginia Peninsula Chamber to participate in your ribbon cutting.
Note: The Chamber cannot guarantee the number of guests in attendance. Pre-registration with the Chamber for Ribbon Cuttings is required with two weeks advance notice. Events are scheduled based upon availability.
Click on the Date to pre-register for the event.
Click on the Business Name to learn more about the business hosting the event.